We do the job right the first time… Guaranteed!
Replacement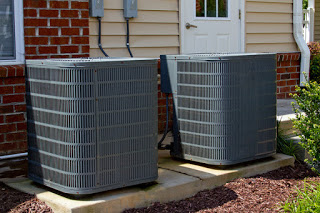 The most important aspect of a replacement is the day it's installed! Why? The fact is over 60% of the efficiency and reliability of your new comfort system rests in the hands of the contractor that installs it. Unfortunately, according to a variety of studies of the heating and air conditioning industry, up to 90% of home comfort systems have been improperly installed. This costs consumers millions of dollars each year in increased utility and repair bills. More important, however, is the safety and reliability of your new system. 72 Degrees Cooper Brothers has established strict installation guidelines to ensure your comfort and safety. They include:
All our installation specialists are trained properly and have passed strict criminal background, DMV, and drug tests.
Proper permits will be obtained according to city, county or township requirements.
Custom design and manufacture of all sheet metal fabrication.
Industry trained and certified technicians install equipment to the exact manufacturer's specifications.
Handle and dispose of all environmentally hazardous materials, according the federal guidelines.
As you can see, we pride ourselves on not just meeting but going beyond industry standards for installation and our focus is on addressing your comfort needs. Our Comfort Advisor will come to your home and perform an Engineering Analysis to ensure the comfort system designed is the proper size for your home. This will guarantee you increased efficiency, decreased utility cost, and extended life of your family comfort system. We guarantee your satisfaction 100%.
Repair Services
Competence, proficiency, skill and a proud tradition of excellence – these are the qualities you find at 72 Degrees Cooper Brothers. Serving Homeowners and Businesses in the Santa Clara Valley, 72 Degrees Cooper Brothers Heating and Air, provides quality air conditioning and heating products. With over 15 years of experience, we've accumulated extensive knowledge and understanding of home environmental comfort.
We have the ability to repair, service and install complete heating and air conditioning systems. In addition to scheduled service checks, repairing of existing equipment, and installation of new equipment, we can help you find ways to reduce your energy bills through a thorough cost-benefits analysis. We have an extensive history of repair service on all brands of central air conditioning and heating systems
Straight Forward PricingSM
Our certified technician's have years of experience in the HVAC industry. If anyone can diagnose and fix your problem quickly and thoroughly, we can. In addition, we always use the finest new equipment in the industry for installations. Furthermore, we have a patented Straight Forward Pricing Guide so you know the exact price, to the penny, before we do the work and you are never charged by the hour. How many companies are willing to show you their price books? You can count on 72 Degrees Cooper Brothers to do the job right. We service all brands of air conditioning and heating equipment.
Warehouse on Wheels
Our trucks are stocked with thousands of parts for most brands so when we come to your home we can fix your problem right away. This saves you time and money.
There are a great number of service companies who purposely don't carry as many parts with them. Why? Well, by not having their trucks stocked with thousands of parts, they are forced t run to supply houses and pick up your needed parts. But, think about who pays for their travel time back and forth… That's right, YOU WILL.
Technician Seal of Safety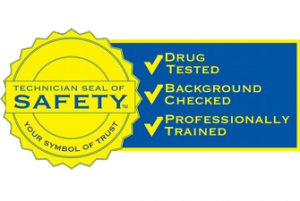 72 Degrees Cooper Brothers proudly displays the Technician Seal of Safety.
You can minimize your risk when hiring a home services contractor by going with a contractor who displays the Technician Seal of Safety. You owe it to yourself and your family to make sure you are inviting individuals into your home who have been screened by a pre-employment background check and who are tested for illegal drug use, as permitted by law.
That's why the Technician Seal of Safety was established: to let you, the homeowner, know at a glance which contractors stand out from the crowd when it comes to protecting the safety of you and your family. Behind the Technician Seal of Safety stands a group of home service contractors specializing in:
Heating and cooling
Plumbing
Electrical
Roofing services
Each of these companies bearing the Technician Seal of Safety is a member of a professional contractor organization that advocates the use of pre-employment backgrounds checks and drug testing, as allowed by law. Now, many contractors in the home services business do not bother to practice such stringent policies. But that's what distinguishes these elite contractors from the rest. When you see the Technician Seal of Safety you know you're dealing with a professional who cares about your personal safety, the safety of your family, and the well-being and security of your home.
Talking Thermostat
72 Degrees Cooper Brothers Heating & Air Conditioning is an exclusive dealer for the innovative Talking Thermostat. This unique product is designed to be the most user-friendly programmable thermostat on the market. Its ability to gently guide the user through set-up and temperature options makes it a perfect gift for elderly or visually impaired loved ones. The Talking thermostat comes with a Lifetime Warranty and offers more protection & comfort benefits than any other thermostat you can buy.